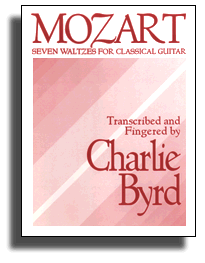 MOZART: Seven Waltzes For Classical Guitar
Let's start with Charlie Byrd's thoughts on these beautiful solos:

"Written in Vienna in 1791, these seven waltzes were among Mozart's last compositions. Guitarists will be interested to know that although Mozart never wrote for the guitar, his generation saw the classical guitar's formative years. During the period when Aguado, Giuliani, and Sor were creating their great works for the guitar, Mozart was the premier composer. His influence on their work is unmistakable.

I've enjoyed performing these arrangements in concert, and welcome the opportunity to share them with my fellow guitarists." — Charlie Byrd

---
"Beautiful, effective transcriptions! Mozart instilled these waltzes with the charm of country dances, and now they gain a particularly intimate flavor on the guitar. Concert quality arrangements, well within the reach of most guitarists' abilities.

I've had the pleasure of playing these transcriptions in many joint performances with my friend and colleague Charlie Byrd." — Carlos Barbosa-Lima

---
Every guitarist should have Mozart in his repertoire, and what better source than seven wonderful Charlie Byrd transcriptions. Charlie Byrd honed his craft in master classes with Andres Segovia, and he enjoyed an award-winning career as one of America's best-known instrumentalists.

Available for the first time on guitar!
There is really only one word for these waltzes—delightful. Each is a lesson in form, harmony, and simplicity. Charlie Byrd's personal fingerings, refined through countless performances, are a revelation. The results—six solos and one duet—are a joy to perform.

Elegantly typeset, this new folio will be a treasured addition to any serious guitar library.