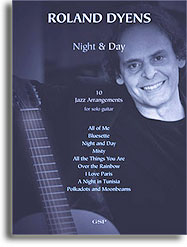 NIGHT & DAY
10 Jazz Arrangements
for Solo Guitar
Roland Dyens
It's finally here! The much anticipated release of Roland Dyens' personal transcriptions from his incredible CD Night & Day. (See Below)
The reason for the long wait is simple—there's no "ghost writing" here. Dyens personally transcribed every note and carefully added his meticulous fingering and performance notes. His goal was to provide you with every tool necessary to master these beautiful arrangements. Hear the CD at the GHA Records Site!
Guitar critics worldwide have raved about the Night & Day CD. It's packed with brilliant arrangements of the great, classic melodies Dyens calls the
"ten standards that represent the History of Jazz."
These are challenging solos, but once mastered you'll have ten professional concert-quality arrangements at your fingertips. Music notation, no tab, 120 pages. Very highly recommended!
Product description/review Copyright © 2005 Guitarist's Forum